Introducing Apple Pay at William Penn Bank.
No more fumbling for your wallet at checkout. You can now conveniently pay with your William Penn Bank Debit Card with just the touch of a button.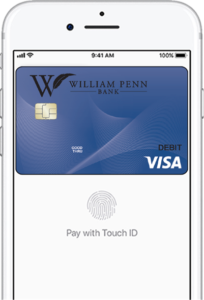 What is Apple Pay?
Apple Pay is a simpler, more secure way to pay using your iPhone®, iPad® or Apple Watch™. The beauty of Apple Pay is that your card number is never stored on your device. When you pay, your numbers are not sent to the merchant. Instead, a unique number is assigned for each purchase, so your payments stay private and secure.
To pay with your iPhone, it's simple. Just hold your iPhone near the contactless reader with your finger on Touch ID and that's it! With your Apple Watch, it's just as easy. Just double-click the side button and hold the display up to the contactless reader. The Watch will tap and beep letting you know that the purchase was made.
On your iPhone and iPad, you can use also Apple Pay to pay within apps. Checking out is as easy as selecting Apple Pay and placing your finger on Touch ID.
Safe and Secure
The account security and protection you have come to expect from William Penn Bank is only enhanced through your use of Apple Pay. When using Apple Pay to make a purchase, your personal account number and information are never shared with the merchant. Instead, through tokenization, your uniquely assigned Device Account Number along with an encrypted transaction-specific security code are used to make the purchase rather than your card number further protecting your account from being compromised.
Where to Shop
Apple Pay is growing as an accepted form of payment for in-store and in-app purchases across the United States. For an updated list of participating retailers and apps, visit: www.apple.com/apple-pay.
While you are out shopping, simply look for the Apple Pay or contactless payment logo on the payment terminal as an indicator that you can complete your purchase using Apple Pay.

Get Started
Apple Pay is a function of the Wallet app on select Apple devices. Your William Penn Bank Visa® Debit Card can be added to Wallet by accessing the app directly on your phone. If you don't see the option to "Add Credit or Debit Card," swipe down and tap the plus sign. If you already have your William Penn Bank Visa® Debit Card on file for iTunes®, follow the prompts to add it to your Wallet.