Whether you're traveling, out of town, or simply away from your computer, banking is a snap with your smartphone. With our William Penn Bank app, making payments is easy, secure and convenient. *Message and data rates may apply.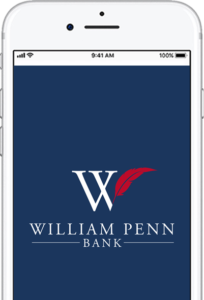 Features
Easily view the balances, recent transactions and other relevant details for each of the accounts you have linked to your William Penn Bank Online Banking login.
Quickly schedule payments to any payee you previously set up within Online Banking.
Instantly transfer funds between your William Penn Bank accounts linked to your Online Banking.
Manage your personal Mobile Banking preferences in real time. You may change your Mobile Password and select whether you would like to remain logged in between Mobile Banking sessions.
Easily schedule or make a loan payment.
Using the search feature on your mobile device's GEO Locator, quickly and easily find the William Penn Bank ATM or branch location that's most convenient for you. You can even access directions to your preferred branch location.
Contact William Penn Bank customer service by calling 855-945-5001 or by sending an e-mail to depositops@williampenn.bank.
Frequently Asked Questions
How do I enroll in Mobile Banking?
admin
2018-10-25T13:50:16+00:00
To enroll in Mobile Banking you must first enroll in Online Banking. Enrolling in Online Banking is easy and is a great way to make your banking flexible and convenient.
Once you are enrolled in Online Banking, you're on your way to the convenience of Mobile Banking. Simply log in to Online Banking, under the "Options" tab, select "Enroll Now" in the Mobile Banking profile.
It's important to take the proper precautions to protect your personal and financial information or that of your business when using Mobile Banking.
Read More